CHAMPRIX PROTEIN CONCENTRATES
Easy to mix for a more homogeneous and quality feed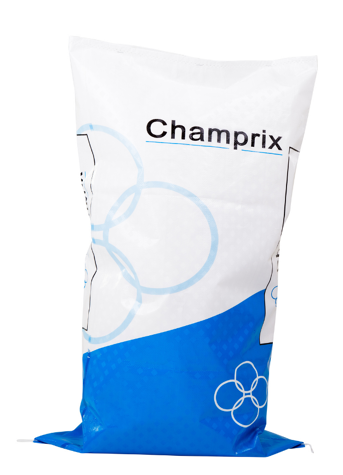 Champrix concentrates are suitable for all different kinds of animals and available in all inclusion rates from 2.5% to 35% of the complete feed. Champrix concentrates are practical in application and made of raw materials of the highest quality available, including limiting amino acids, antioxidants, anti-moulds, and/or production and efficiency improving feed additives.
Champrix Concentrates benefits:
The best balance between optimal quality and competitive prices;
Made from the highest quality raw materials available, regularly checked by independent laboratories;
Tailor made and carefully calculated by Champrix nutritionists based on local available ingredients;
Available in different inclusion rates suitable for all types of farms and needs.
Easy to mix and include all essential ingredients and high quality protein source.
Our protein concentrate is a healthy and tasty ingredient for animal feed or organic animal feed. Champrix' highly digestible proteins include amongst others, potato protein and yeast which can be added to complete formula. In order to keep our carbon footprint as low as possible, we strive to use local ingredients. We are able to compose any protein mix you need to reach your optimal target nutritional levels. The protein concentrates are available in all inclusion rate from 2.5% up to 35%.
We are able to manufacture tailored solutions especially for you. Moreover, we also provide you a complete feed advice and mixing instructions taking account your specific conditions. Our nutritional experts are eager to help you.
We are GMP+ certified and our products are regularly tested by renowned and independent laboratories.
Premixes
Premix is a mixture of vitamins, minerals, feed additives / feed supplements to increase quality of the complete feed to achieve a better growth and production.
More information
Prestarter Complete Feed
Prestarter Complete Feed with all the essential nutritients. It stimulates the feed intake from the first hours onwards and it is a strong foundation for the future.
More information
Acidifiers
Champ-Acid product range support the animal and prevent pathogenic growth.
More information
Reach the genetic potential of your animals in the best possible way