PARTNER IN FEED SOLUTIONS
Meet Champrix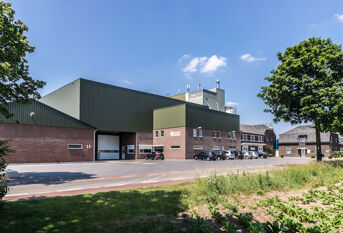 Extensive experience and long-lasting partnerships
Champrix is a dedicated team of qualified animal feed experts. We comprehend that our partners expect integrity and the guaranteed quality of our products. Based on our proven seniority in the animal feed industry we have become a trusted partner for our many partners.
What we do
We work in an efficient management structure with short lines which enables us to go through great lengths to find the best suitable solution for you. We have a result-oriented mindset, and we guarantee high-quality and sustainable premixes, protein concentrates, prestarter feed, milk replacers and feed additives entirely adapted to your needs and requests to improve the animal performance. We work hard to make your life easier, more efficient, and more profitable, every day. Due to our positive, hands-on, common sense and customer friendly attitude, we are able to establish strong and long-lasting partnerships.
Our partners are located throughout the world and include the animal feed compound industry, home-mixers, feed producers, integrators, and distributors. Since we are in the proximity of the Rotterdam and Antwerp International ports, we can distribute our products reliable, fast, and cost-efficiently.
Our Vision
Feeding the future together
With a growing world population, the demand for nutritional solutions will increase and growing demand for customised products to achieve the right results.
We provide nutritional solutions by giving personal attention to our customers' nutritional needs and service.
Our ambition is to grow modestly, so that the personal approach of a professional company, where the customer is central, remains our strength.
Our Mission
Best results together
We provide nutritional solutions (additives, premixes, concentrates and special feeds) for animal feeds. We strive for the best economic performance for the customer under local conditions worldwide.
We support the entire chain, from ingredients, feed distributors and integrations to feed mills and farmers. By sharing our knowledge about feed additives, animal feed, animal husbandry, permits and imports, we strive to achieve the best results together with our partners.
At Champrix, the customer comes first by offering each customer personalized attention and tailor-made solutions.
Our goal
It is our goal to achieve optimal feed-to-food conversion for our customers and therefore all our products can be customized to your needs. Our team of knowledgeable people is here to help you find solutions that fit your requirements and your business.
Personal Approach
Our team of experts is not only committed to finding the best solution available for your requirements, but we are also dedicated to providing excellent after-sales service. With our personal approach we ensure the attention and support you require.
Reliability
Champrix delivers quality products. We keep on focusing on developing the perfect product that will meet and exceed your expectations. Our scientific approach to animal nutrition and our clients' expertise will lead to the right ingredients for healthy, productive animal feed that will result in wholesome meat, milk and eggs. If there are any questions we can give you clear and fast answers. You can rely on us!
Innovation
Innovation is the motor of our company. We constantly look for new opportunities and solutions within our company. As a result we are able to develop application 123feed / ChampOptimiser. A tool that allows you to create your own mixing instruction, based on your available ingredients and prices. We are dedicated to provide you with new solutions and innovations to make your life easier, more efficient, and more profitable, every day.
Efficiency
Our team is committed to fast service. Our efficient operation enables us to quickly develop specific animal feed ingredients that fit your needs while maintaining our high-quality standard. We are experienced in shipping our products all over the World, and we can do so in a timely and cost-efficient way. Champrix also offers a one-stop-shop feed program. This means that we can compose a range of products that will be shipped in one container, which will save you a considerable amount of time and effort.